Brand is visual, brand is written, brand is word of mouth, brand needs to be communicated.
These are the four basic "B's" of branding. Once you establish your ski intruction brand, make it visible on your social media profile. Offer written content that describes your ski teaching philosophy. Embellish your posts with images. If well-written and visually engaging, your ideas will spread by word of mouth. In this article, you will learn how to present a visual manifestation of your brand on your Facebook Page, your business card and your email signature.
Brand Design
Brand design must embody:
– A logo that represents your teaching philosophy
– A color scheme that appeals to the types of students you wish to attract
– Photos of yourself teaching
– A teaching motto
– A name for your technique
– An appropriate s font for your email correspondances and business cards.
Important: All of these items must harmonize with each other. Aspen instructor Weems Westfeldt has mastered the art and science of brand harmony. His website includes his descriptive Edgechange logo, his motto, Brilliant Skiing, Every Day and his technique name, The Sport Diamond.
Branding is a package. What's in your package? Do the pieces fit together? Look at your package and determine what works, and what seems out of place.
Font Appeal
Times New Roman was once your only font choice. Times have changed. Now, you have hundreds to choose from.


Bold and powerful fonts make your business cards stand out – as long as they're readable. For best results, choose fonts that resemble traditional lettering styles, but are bolder, thinner, taller or slanted. When designing your business card, power fonts make your name and tagline stand out against the rest of your information. Choose a consistent font style, and use it in your business card, email and newsletter communications. This practice helps enhance brand recognition.
Creating a Logo
Fiverr offers logo design at prices that ski instructors can afford.
Logo Types
– Font Based, like IBM
– Action Based, could show a pair of skis
– Abstract Graphic Based, like the Nike swoosh
If you use the abstract graphic design, you must work harder to communicate its meaning.
"Such a symbol is meaningless until your company can communicate to consumers what its underlying associations are.
Americus Reed II, a marketing professor at the University of Pennsylvania's Wharton School, as told to Entrepreneur.
Logo Considerations
Does it express my teaching philosophy?
Is the design simple enough?
Does the design have enough contrast to stand out?
Will it work black and white?
Will it work when it's super small, such as in email?
Does it look too much like any other ski instructor logos?
Will it be relevant five years or ten years down the road? (imagine if your logo had a pair of straight skis!)
Color
An insightful article on Wisestep.com discusses the use of color in your marketing strategy.
This chart represents the most conventional wisdom on the topic: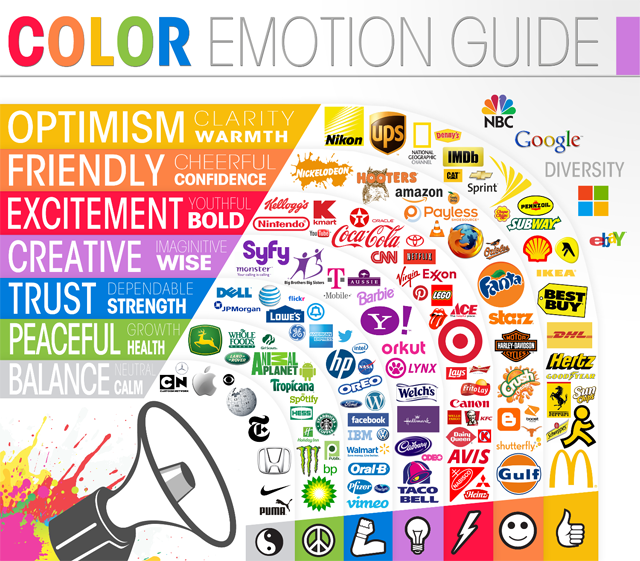 Although the chart works as a guideline, avoid stereotyping and generalizations. The colors that your favorite students wear to the slopes provide some insight about your color best scheme.
Wrapping Up the Package
Incorporate these branding concepts into your email signature, your business card, your blog and your social media pages. After you create your Facebook page, look for ski related groups and articles on Facebook. Join groups. Comment on articles. Show people your brand.